The Battle Cats is a popular online game featuring simple yet cute cats! The game currently has 7 different chapters which are grouped into 3 different themes as mentioned on the Main Page. The game publisher, PONOS, released the game on 17th sep 2014. After all these years, the popularity of The Battle Cats game doesn't seem to fade! Let us take a look at all cats in the game that took the world by storm.
The Battle Cats
The most important game feature of The Battle Cats will definitely be the cats! Players have to train their army of cats to fight against various enemies. Any other creature that does not look like cats is by default the enemy of the cats.
Each of the cats in The Battle Cats have their individual strengths and weaknesses. All the cats gain strength by leveling up through the increase in experience points. In the first story mode, Empire of Cats, all the cats can only reach a maximum level of 10. Subsequently, the cap is increased to 20 for the normal cats in the second story mode. On the other hand, all the other cats can reach a maximum of level 40 upon unlocking the second story mode. At every milestone, cats will evolve and change their appearance.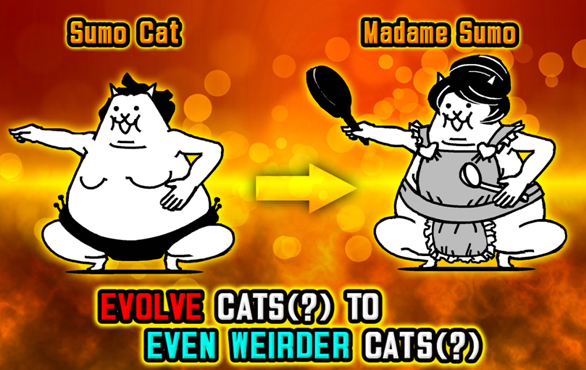 Cat Categories
All cats in The Battle Cats are divided into 5 categories. The weakest would be the Normal cats. Thereafter, Special cats are obtained after the completion of specific missions. Players will not be able to purchase Special cats from the Cat Capsule. The limited cats are in the Rare, Super Rare, and Uber Super Rare categories. Every player will first start out with the Normal cats as they are the easiest to upgrade. In addition, there are currently 9 cats that are under the "Normal" category.
Here is the list of Normal Cats and their evolution process:
Cat → Macho Cat → Mohawk Cat
Tank Cat → Wall Cat → Eraser Cat
Axe Cat → Brave Cat → Dark Cat
Gross Cat → Sexy Legs Cat → Macho Leg Cat
Cow Cat → Giraffe Cat → Lion Cat
Bird Cat → UFO Cat → The Flying Cat
Fish Cat → Whale Cat → Island Cat
Lizard Cat → Dragon Cat → King Dragon Cat
Titan Cat → Mythical Titan Cat → Jamiera Cat
Cat Capsule
Get new cats at the Cat Capsule using Cat Tickets. Players can obtain Cat Tickets either via the completion of the in-game levels or purchased via in-game currency, Cat Food. Unlock Normal cats using Normal Cat Tickets and cats that are of rare category and above using Rare Cat Tickets. Collect all cats by getting lots of tickets! Hence, the higher the cat category, the harder it is to unlock them. Learn about more cheats and hacks to get more cat capsules and cat food here!